Health Insurance Benefits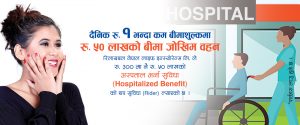 Health Insurance Rider Benefits :

Under health insurance coverage Reliable has offered two rider benefits:
Critical Illness Benefit
Hospitalization Cash Benefit
Critical Illness Benefit:
This benefit should be purchased along with another life insurance plan. This offers protection to policyholder in case of illness. If the policy holder is diagnosed with a specific critical illness during the policy term, a sum equal to the Insured Amount of this benefit will be paid to the policy holder. The amount will be paid only one time during the policy period.
Features:
Minimum Insured Amount: Nrs. 50,000
Maximum Insured Amount: Nrs. 10,00,000
Minimum Age at Entry : 18 year (Last Birthday)
Maximum Age at Entry : 65 years (Last Birthday)
Maximum Age at Maturity : 70 years (Last Birthday)
Policy Term : 5 to 20 years
Waiting Period:
A waiting period of 90 days shall be applicable under this benefit from the date of inception or reinstatement. No claim shall be paid.
Survival Period:
A survival period of 30 days is applicable from the diagnosis of Critical Illness.
Payment Mode:
Yearly, Half Yearly, Quarterly and Monthly
Critical Illness covered:
Cancer (All Types of Cancer)
Kidney Failure (End Stage Renal Failure)
Primary Pulmonary Arterial Hypertension
Multiple Sclerosis
Major Organ Transplant
Coronary Artery By-Pass graft (with surgery to divide  the breastbone)
Surgery to Aorta
Heart Valve Surgery
Stroke
Myocardial infraction (First Heart Attack)
Coma
Total Blindness
Paralysis
Benign Brain Tumour
Mental Illness caused due to accident (Traumatic)
Underwriting Requirements:
For applicants above 50 years, following medical examinations are needed for the issuance of rider.
General Medical Examination
ECG with 12 leads
6th PA view chest x ray
Urine test
Hospitalization Cash Benefit:
This benefit should be purchased along with another life insurance plan. This provides the cash benefit to the policy holder to cover hospitalization expense due to accident during the policy term.
Benefits:
The benefit is payable to the policy holder in the event of being hospitalized for surgery or admitted to an Intensive Care Unit (ICU) due to accident. The length of stay should be minimum 72 hours and hospitalization should be within 24 hours of accident causing bodily injury.
Cash benefit of 0.1% of Insured Amount per day of hospitalization will be provided to the policy holder subject to maximum of 365 days per accident.
Features:
Minimum Insured Amount: Nrs. 50,000
Maximum Insured Amount: Nrs. 50,00,000
Minimum Age at Entry : 18 year (Last Birthday)
Maximum Age at Entry : 55 years (Last Birthday)
Maximum Age at Maturity : 60 years (Last Birthday)
Policy Term : 5 to 20 years
Payment Mode:
Yearly, Half Yearly, Quarterly and Monthly
Location of Hospitalization: Nepal
Premium:  Nrs. 6  for Insured Amount of Nrs. 100,000/-